Deprecated
: trim(): Passing null to parameter #1 ($string) of type string is deprecated in
/var/www/wp-content/plugins/shareaholic/public.php
on line
457
Deprecated
: trim(): Passing null to parameter #1 ($string) of type string is deprecated in
/var/www/wp-content/plugins/shareaholic/public.php
on line
463
Deprecated
: trim(): Passing null to parameter #1 ($string) of type string is deprecated in
/var/www/wp-content/plugins/shareaholic/public.php
on line
469
Deprecated
: trim(): Passing null to parameter #1 ($string) of type string is deprecated in
/var/www/wp-content/plugins/shareaholic/public.php
on line
457
Deprecated
: trim(): Passing null to parameter #1 ($string) of type string is deprecated in
/var/www/wp-content/plugins/shareaholic/public.php
on line
463
Deprecated
: trim(): Passing null to parameter #1 ($string) of type string is deprecated in
/var/www/wp-content/plugins/shareaholic/public.php
on line
469
Deprecated
: trim(): Passing null to parameter #1 ($string) of type string is deprecated in
/var/www/wp-content/plugins/shareaholic/public.php
on line
457
Deprecated
: trim(): Passing null to parameter #1 ($string) of type string is deprecated in
/var/www/wp-content/plugins/shareaholic/public.php
on line
463
Deprecated
: trim(): Passing null to parameter #1 ($string) of type string is deprecated in
/var/www/wp-content/plugins/shareaholic/public.php
on line
469
You love to travel, you love designer bags, so why not get a designer bag to travel?
Designer bags are highly priced because of their quality and style. Did you know they are also an investment? There are less expensive branded bags that have the same style as the luxury designers but they don't last very long and you'll end up replacing it with another one. You don't need to splurge every month, as for me, since am I collecting these luxury items, I like to purchase one every 3-4 months which is within my budget. If I had no budget, I'd be buying every month. What can I say? I am a girl who loves nice things.
How did I get into these designer bags?
When I was in high school, I was influenced by mom and aunties who would wear these high end designer handbags that you would only see the rich and celebrities have on tv and magazines.
Journeyadventure.org is a participant in the Amazon Services LLC Associates Program, an affiliate advertising program designed to provide a means for sites to earn advertising fees by advertising and linking to Amazon.com
When I finally got a good paying job, I invested in my first Gucci bag then moved on to other accessories like wallets and sunglasses. My favorite brand during that time was Gucci and I still do but I really am into french designers like Louis Vuitton and Chanel.
Till this day, I still have that Gucci bag and in very good condition. It is a waist bag which is great for traveling, however it is not enough space for my things like my wallet, makeup and camera gear.
As the years passed by, I've upgraded to more designer bags such as Louis Vuitton and Chanel. I would love to buy things new, but they come with an expensive price tag,  so I opted to purchase a pre-loved bag which is a better term for "pre-owned" which means previously owned; used or secondhand.
If you're like me, buying a pre-loved designer bag is affordable and still in style. Honestly, no one will ever know the difference unless it was extremely worn out. These designer brands are very popular with celebrities and have excellent quality therefore are highly priced, but these accessories are really an investment. Last year I decided I would start my designer collection of bags, wallets, sunglasses and jewelry.
I think of them as an investment because if you ever wanted to resell them, you can and for a very good amount.  There are a lot of sites to sell such as Tradesy, Fashionphile, Mercari, Poshmark, Ebay to name a few.
Depending on where you are traveling and what type of traveler you are.
Here are the types of bags that are best for traveling.
Backpack– a bag with shoulder straps that allow it to be carried on one's back. This is my must have bag for traveling especially since I do a lot of family travel. A backpack is perfect for someone who's always on the go and carrying on extra accessories like camera gear, water bottle and those who travel with kids.
Crossbody bag–a type of bag having a long shoulder strap intended to be worn diagonally across the body. This is also my must have bag for traveling for easy access to my credit cards, cash and my cell phone. When I did international travel, this was something I had to have the most because I wanted those valuable things close to me instead of my backpack.
Satchel bag–a bag, often with a strap. The strap is often worn so that it diagonally crosses the body, with the bag hanging on the opposite hip, rather than hanging directly down from the shoulder. These bags may be slightly larger than a crossbody and is perfect when you go somewhere to a nice restaurant or sightseeing.
Here are the Best 10 designer bags I recommend to travel.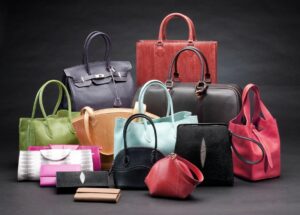 Like this post? Want more posts like this?
Subscribe to my monthly newsletter.
https://amzn.to/342hilV